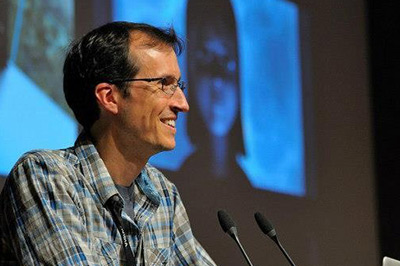 Chris Perry, professor of Media Arts and Sciences at Hampshire College, holds an M.S. in Media Arts and Sciences from the Media Laboratory at the Massachusetts Institute of Technology and an MFA in Art from UMASS Amherst. His B.A., in Physics and Astronomy, is from Amherst College. His primary interests are in computer graphics and visual storytelling--particularly the intersection of the two.
Prior to Hampshire, Perry worked at Pixar Animation Studios as a technical director on A BUG'S LIFE and FINDING NEMO and as a graphics software engineer on TOY STORY 2. Before that, Perry worked at Rhythm & Hues Studios where he co-developed the voodoo animation system that earned him a Technical Achievement Award in 2014 from the Academy of Motion Picture Arts and Sciences.
In 2002 Perry founded Bit Films where he has written, directed, and/or produced multiple award winning animated shorts with teams of talented artists, many of them students in the Five College Consortium. He is represented by Oasis Media Group and Paradigm Talent Agency in Los Angeles. Perry joined the Writers Guild of America in 2017.
Blog
School of Cognitive Science
Bit Films
Phone: (413) 559-5476
Fax: (413) 559-5438