John Reinhart, father, poet, arsonist
writing sci-fi, horror, & experimental explorations about being human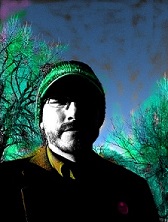 Become a Patron!
Awarded the Dark Poetry Scholarship from the Horror Writers Association, Reinhart's poems and short works have been published internationally in print and online. He has been nominated for the Rhysling Award for best science-fiction poem in the previous year and the Dwarf Stars Award for the best short sci-fi poem of the previous year. He has won the Poetry Nook weekly contest seven times.
"Poetry opens floodgates of perception that are usually closed to purely intellectual examination. Just as quantum experimentation demonstrates that human observation can alter the results of an experiment, poetry holds a lens to the world - inner and outer - and applies the human component - that which deals fundamentally in love, the highest of all human aspirations - to phenomena we most often take for granted. By seeing an earthworm with our hearts, we can experience the world from its perspective. Poetry has the power to save us."
Reinhart's seven books to date span a wide range of his work, ranging from dark sci-fi/horror to humorous scenes from his family life, to experimental word compositions, & more serious social commentary. Read interviews & reviews here and check out Reinhart's musical side, featuring traditional Texas style fiddle music.
Horrific Punctuation (Arson Press, 2021) Originally released as part of Tiger's Eye Press's 8-poem chapbook Infinities Series in 2017, Horrific Punctuation highlights the intersection of Reinhart's English teaching (punctuation) & fascination with the dark underbelly of life. (Tiger's Eye Press no longer exists.)

Re-released and expanded into 32 pages by Arson Press in 2021, Horrific Punctuation is where commas scratch poisoned marks in blood on oblivion, Thor makes an enthusiastic appearance! shotguns make dark holes to mark the end...or maybe the beginning of something new. Zombies, harpies, Odin, Schrödinger's cat, Hermes, yetis, the Loch Ness Monster, and more nightmares are here to remind you that while punctuation can be bad, sometimes it is horrific.

Arson (NightBallet Press, 2018) "Arson is a stand-out collection of poems that explores the themes of light and enlightenment, heat and ignition, in varying ways." ~ Dianne Borsenik, editor/publisher at NightBallet Press

Read I'm busy, from the collection.

dig it (Arson Press, 2018) In "dig it," Reinhart diverges from his previous collections, while remaining true to the core themes of reflective transformation. "We are living in Eden," he says, "but we've gone and painted it a color called puce. Time to plant dandelions."

Read Punch Holes So It Can Breathe, from the collection.

screaming (Lion Tamer Press, 2017) Here Reinhart expands from his sci-fi, experimental, and family standards for a darker pen dipped in blood, darkness, loss, confusion, disorientation, and fear. These 24 prose poems deviate in style from Reinhart's previous collections, but readers familiar with his work will recognize common themes of personal struggle, light in darkness, ants, papers, and Kevin Bacon.

Read light holes, published as the inaugural poem by Lonesome October Lit.

broken bottle of time (Alban Lake, 2017) Reinhart burst on the speculative poetry scene fairly recently, and what an explosion of talent! Herein you'll find a fine mix of sf/f/h and speculative poems. It's the stuff that makes you squirm or smile or pause to think. His is a mind that takes on all kinds of challenges and serves up some exceptional work. The last section is my favorite, with its uniquely surreal take on time passages. It totally blew me away. - Marge Simon, Bram Stoker Award winner, Grand Master Poet, SFPA

Read & listen to Reinhart's Rhysling nominated Butterflies of Traxl IV, published by Pedestal Magazine.

invert the helix (Pski's Porch, 2017) "In invert the helix, Reinhart's brilliant approach takes poetry beyond the line and into the labyrinth. His words are shape and color, layer and repetition. You don't read these poems; you experience them. Reaching the a-ha moment each one of them holds is a kinetic experience - his poems will move you in directions you don't expect, but are glad to discover." - Dianne Borsenik, publisher/editor at NightBallet Press

Some examples of work from this collection are available online at FishFood Magazine.

encircled (Prolific Press, 2016) Reinhart has dedicated the 24 poems in "encircled" to all the people who encircle him, especially his wife and children, and the spark of recognition we share when we shake a stranger's hand. These narrative poems focus on his family, but also his friends, colleagues, neighbors, and students - the folks who make up his community. The poems range from short and humorous reflections on his daughter using the urinal at the amusement park, to ponderous soul searching about the child who died under suspicious circumstances across the street, the stories of dreams and loss, simple waves and deep connections that make up each of our daily lives. (from [the now defunct] FeaturedPoet.com)
---