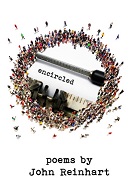 Support my work and Prolific Press's, the courageous folks who went and published this collection: a $7.50 token of appreciation and you get the book!
Reinhart has dedicated the 24 poems in "encircled" to all the people who encircle him, especially his wife and children, and the spark of recognition we share when we shake a stranger's hand. These narrative poems focus on his family, but also his friends, colleagues, neighbors, and students – the folks who make up his community. The poems range from short and humorous reflections on his daughter using the urinal at the amusement park, to ponderous soul searching about the child who died under suspicious circumstances across the street, the stories of dreams and loss, simple waves and deep connections that make up each of our daily lives. (from FeaturedPoet.com)
---
Interviews
Liminoid Magazine Interview: "The New Heart Will Rise"
Interview with Terrie Leigh Relf
Scifaikuest Featured Poet Interview
Moon Pigeon Press Featured Poet Interview
Poets & Writers Directory Listing